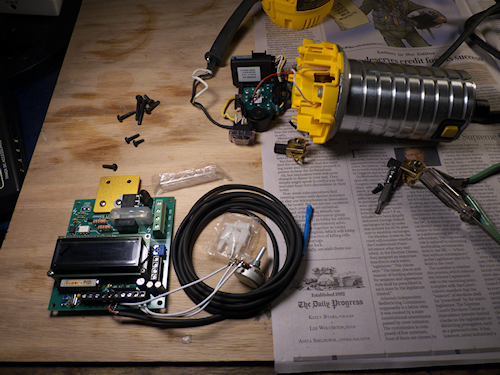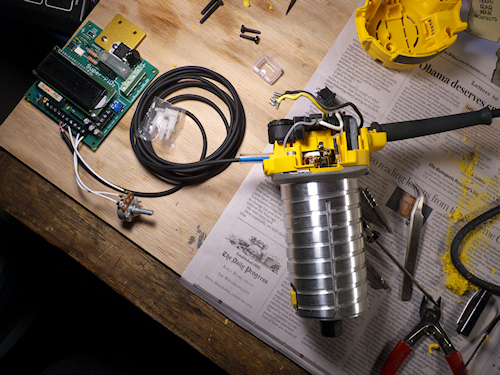 Installing the Super PID into my router. Once I have this hooked up and running, I'll be able to dial in any cutting speed within a couple of rpm. Sweet. That, coupled with the right bit should let me cut, carve and engrave wood, plastic and acrylic materials. Quite a learning curve here but it's way fun.
Note: This page gets hit a lot and I'm sorry I don't have more specific instructions on doing this mod but it's all together now and works really well so I don't want to take it apart to do a tutorial. I do remember this being rather easy, its basically as simple as bypassing the speed controller. I think I made one wire cut, drilled the hole and used one piece of shrink tubing. I followed the generic instructions on the Super PID page. Everything works very well, the LEDs still light up the work area and the PID lets you dial in the RPMs to within about 10 or so. It holds that RPM even chomping on some hard pine although I generally use mine to cut sheet styrene.
Another item: BE CAREFUL mounting the sensor, it must be VERY secure. Mine came loose after about 9 months or so and crept into the router. It didn't hurt the router but it did grind the sensor down to a nub and destroyed it. Turns out it's more or less easy to fix, a sensor can be had from Mouser.com electronics the part number is 512-QRE1113. However it will bring you to a complete stop as far as cutting out parts so beware. (2/22/2016) I'll try to post up more pictures of my mods when I fix this.