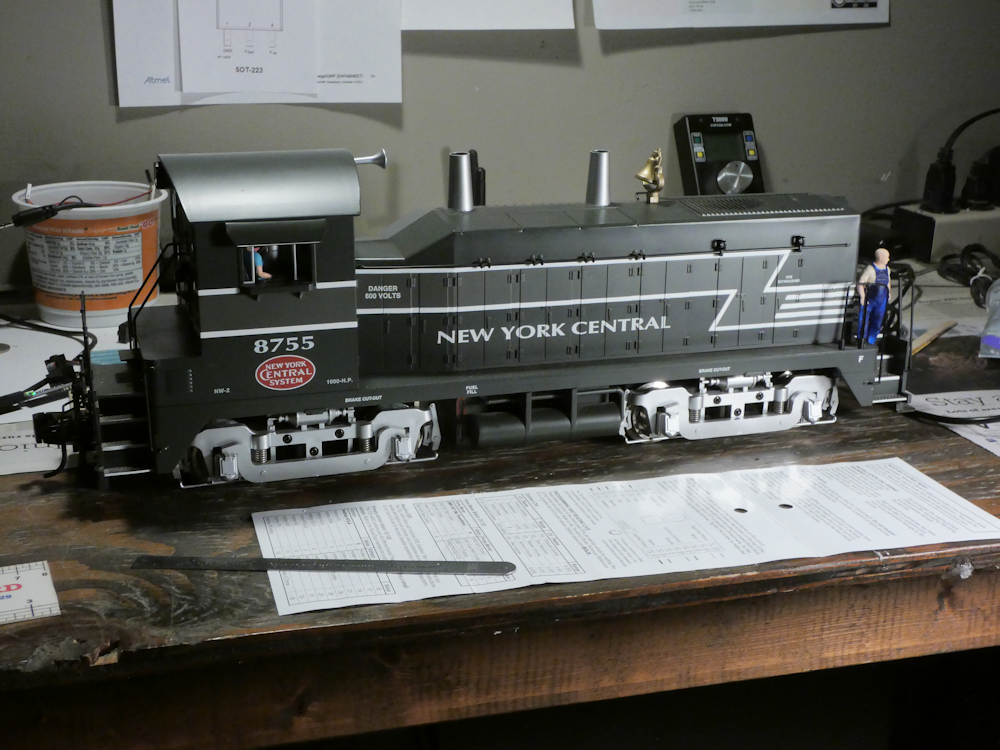 Here is my latest project – Protothrottle Dead Rail for a USA Trains NW2. Somehow I managed to squeeze everything into this little fellow but I did have to skimp just a little on the battery, it's only 1300mah. But that's fine for a switcher in my tiny little industrial yard.
It has a SoundTraxx TSU4400 in it, which is a good 5A sized DCC decoder. I don't think it sounds quite as good as the TCSWow but it's ease of programming and the function outputs make up for that. It also has some neat sound features in it including a 7 band EQ and reverb effects. One other thing it lets you do is 'detune' the engine sounds some- I took it down 100 'cents', adjusted the EQ a bit and now have a good solid bass 'thrum' sort of effect. Pretty cool.
For this install I also did some software development to finish off the coupler mode for the servos. I have these set up on the Protothrottle so that the Aux button controls them. If the direction is set to forward, the aux button controls the back coupler, if it's in reverse, it controls the front one.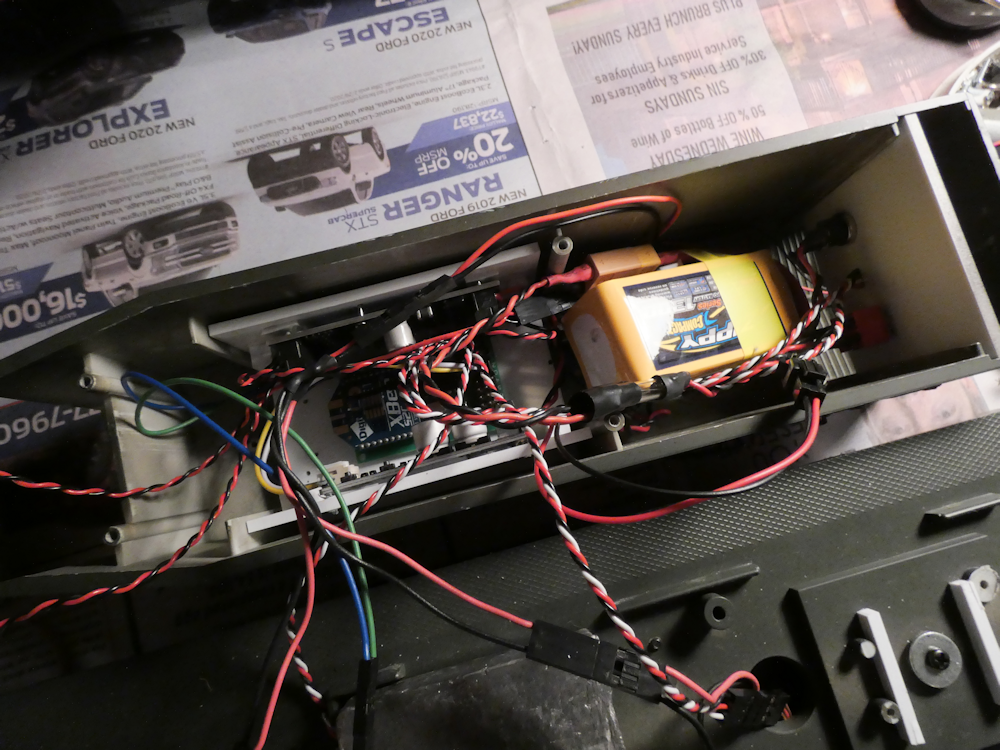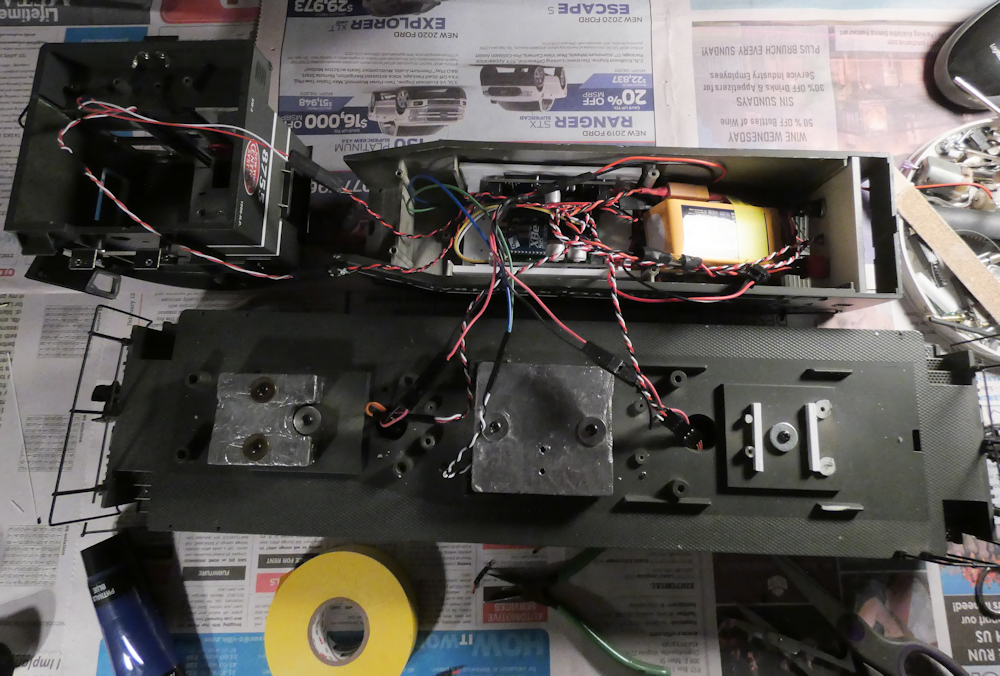 Above are a couple of shots of the interior, I had to build a special little 'cradle' to get everything to fit. On one side is the Soundtraxx Decoder, on the other is the 10A motor driver. In the center is the Xbee Receiver. The battery is a 1300Mah 14.8v Lipo. There is also a small buck converter to power the Receiver and Servos at 5v but it's under the battery so out of view here.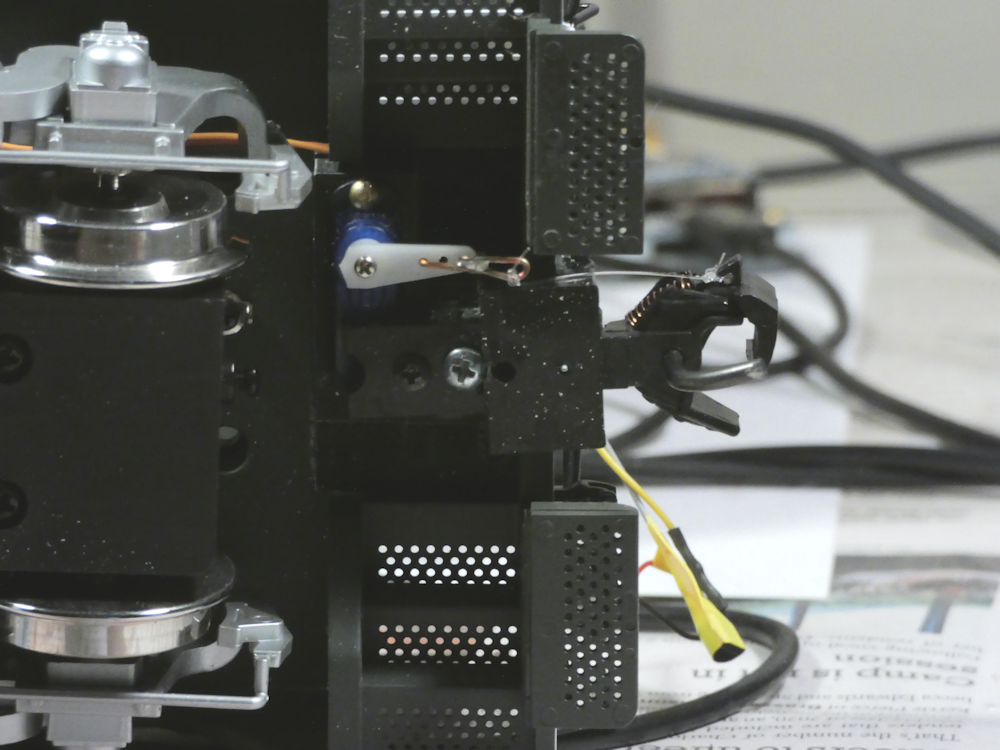 This one shows the servo and couplers. I 3d printed a servo/coupler sort of mount that came out quite well.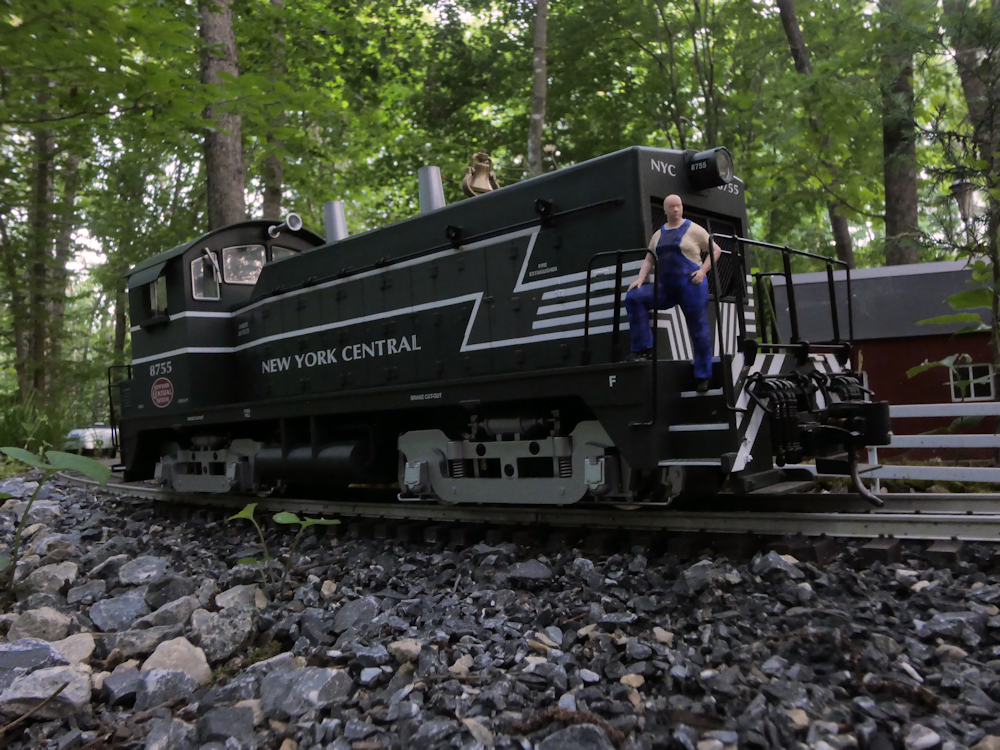 Good shot of it out on the layout with my 3d printed guy on the front.
Above is a quick video of everything all setup and running. Took me a while to tweak all of the parameters and sounds and assign them to the PT buttons but I really like the result. I have the acceleration and deceleration dialed in and enabled the brake. The couplers are triggered by the aux button and I'm using F12 for that so it already has the coupler sounds paired with the servo movement (more or less). I forget the actual horn sample I'm using but I watched a couple of youtube videos of NW2s and this one was pretty close. I mapped the engine start (F5) to the bottom LCD button and 'radio chatter' (F22) to the top one. It still needs a bit of tweaking but I'm very happy with how it came out.