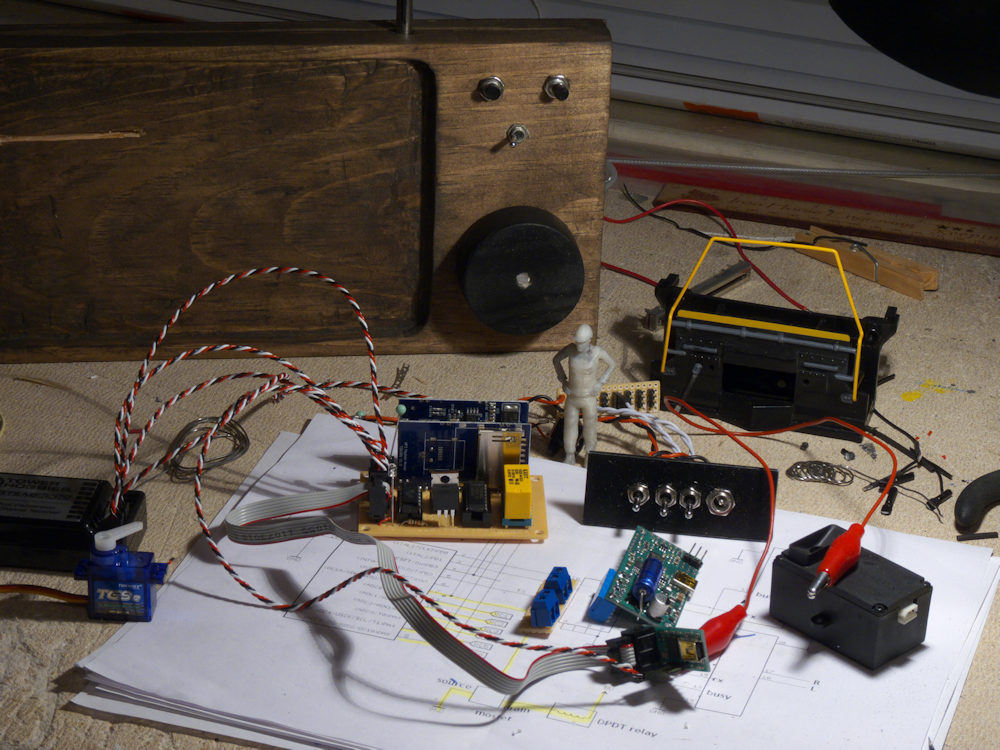 Here is everything I've been playing with for the past few months in preparation for the RS3 battery conversion project. The hacked up R/C transmitter is in the back, note the pocket for my android tablet. The two buttons will be for sounds, the toggle switch is the reversing switch for the power relay.
The 3D print fellow is in front of that, I have a sitting version of him to replace the out of scale cartoon figure in the cab. The soundcard/relay/mosfet board is to the left and the pololu 18v7 motor controller is on the right in front of the switch harness. The power relay is wired and working off the intercepted servo signal of channel two.
The smoke generator is the black box at the far right, I think it needs its own hack. Sync'd to the motor control would be cool? I'm not sure about this one, not even sure it's worth it to put it into the model at all. Obviously I need some testing on that first.
The Pololu USB AVR programmer/ttl serialport/sloscope widget is at the front with the red clip connected to the back. This is my 'scope' probe. An amazing board for the price! I tell you what, I am absolutely sold on the AVR series of chips and this programmer. The ATTiny84 does not have a serial port, yet I found a nice software uart for free at AVR freaks. I can hook one pin of the micro up to the serial input on the Pololu and that combined with an LED on one of the port pins gives me a decent set of debugging tools. Super cheap too, ATtiny84s are like $3 in singles, way less in qty.
Anyhow, the sound algorithms need to be fleshed out, the mounting of the boards is not right yet and I need to put together a solid battery pack. But I'm getting there 🙂