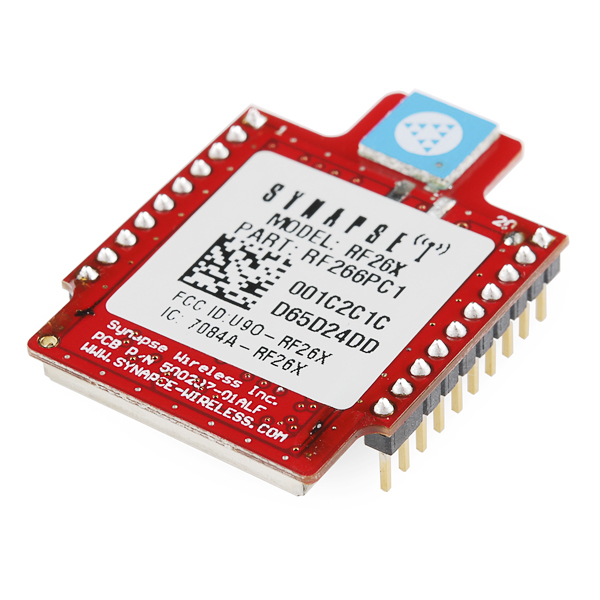 Well, I can't believe I have not seen this module before. I may have but discounted it because it is about $11 more than an Xbee Series 1. However, the features in this module are very compelling, you really get a LOT of extra power and features for that $11.
This Synapse RF module-in-an-XBee-Pro-form-factor features OTA (Over-The-Air) speeds up to 2Mbps, maximum 1.2km (4000) range and a chip antenna for compact installation.
This particular RF module includes a user programmable (via python-based scripts), embedded ATmega128RFA1 microcontroller that can be programmed for all kinds of applications including remote sensor monitoring, remote control, or peripheral activation.
Features:
XBee Pro pin and footprint compatibility
Very high communication speeds (250kbps to 2Mbps)
Up to 1.2km (4000′) foot range (line-of-sight)
Built-in Python interpreter (Who needs additional microcontroller? This one has one built-in!)
Wide low voltage TTL operating range (2.7 – 3.6V)
Ultra low power consumption mode (1.18µA. Not mA, but µA!)
15 GPIO, featuring

4 10-bit A/D inputs
4 PWM Outputs
7 Interrupt capable pins

128k flash, with 58k free for over-the-air loaded user programs
Communication options include I2C (TWI) master mode, SPI (3 & 4 wire, master mode), 1 UART
Low power capabilities (2.3uA sleep current)
More:
Embedded ATmega128RFA1 on-board
1 UART port (pin 2, 3) for LVTTL (3.3V) serial control or transparent data
Able to be configured to wirelessly program Arduino Uno & Mega 2560
Socket-able (2mm spacing) or solder-able
SNAP, instant-on, self-healing, mesh network operating system
802.15.4 Protocol at 2.4GHz
I2C communication (Pins 9, 13)
SPI communication (Pins 18, 19, 20)
128k flash memory (56k available for user applications)
Can be used stand-alone (no additional microcontroller required)
Low power mode of 2.3uA with internal timer running
Supply voltage: 2.7V~3.6V
Transmit current: 130mA (Typ)
Receive current: 25mA
Sleep current: 2.3uA

Operating temperature:

-40°C ~ 85°C

Power output:

20dBm for best-in-class range

FCC certified on all 16 channels (2.4GHz)
Spread spectrum (DSSS) technology resists noisy environments